Link21 is focused on building a brighter future for generations to come. As we plan a faster, more equitable network of train service for future generations, engaging with students and youth across the Megaregion helps the Program to raise awareness, educate, and ultimately invest in our communities by providing meaningful opportunities for youth in the communities we serve. 
Internships
Link21 and our communities benefit from BART's paid, project-based internships. Our interns gain real-world experiences that foster their educational and career development goals, while gaining an introduction to transit career options that will support a future workforce pipeline.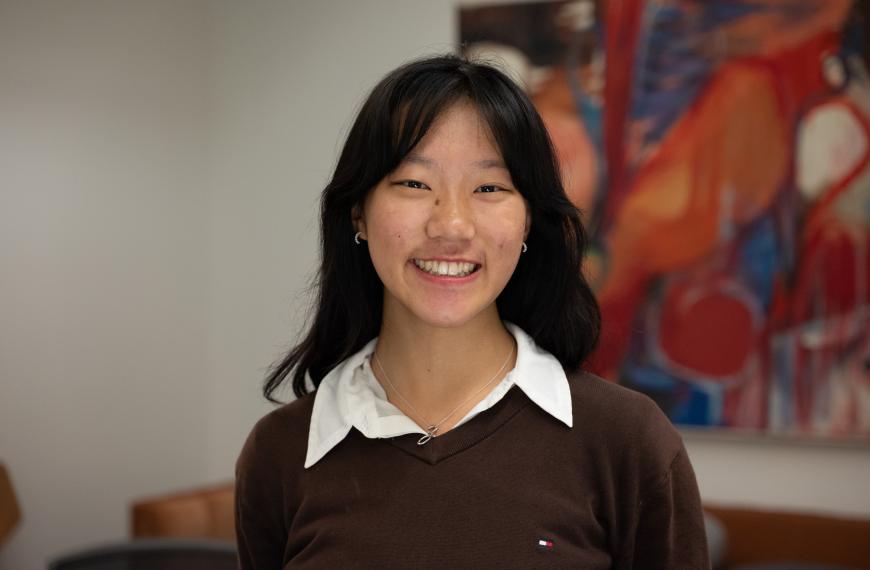 Intern Spotlight
Meet Florance Zhang, a multi-talented student and artist, who spent eight weeks interning with the Link21 Program. Florance grew up in Los Gatos in the South Bay, with family roots planted in Hong Kong.
Florance spent her time on the Program supporting station planning and wayfinding efforts, bringing a fresh perspective and experiences stemming from her upbringing in northern California and her time spent in Hong Kong.
Florance and two colleagues were tasked with making recommendations to BART on station wayfinding. This involved multijurisdictional research and trips on the train to assess transfers between BART, Caltrain, Capitol Corridor and other trains. Florance drew from her lived experience in Hong Kong and incorporated some of their best practices for wayfinding and accessibility into her recommendations.
Another highlight for Florance was supporting station planning. She enjoyed using mapping technology to assess proposed station locations. Being mindful of the space and considering the impact a station may have on a community is something that Florance is passionate about. Through her work she looked at factors such as land use, environmental features, community resources, and future development.
Entering her sophomore year at UC Berkeley College of Environmental Design, Florance will carry forward valuable lessons from her time on the Link21 Program and is excited to share her experiences with her classmates. She recognizes the importance of multiple perspectives and factors when making decisions about transportation, including safety, operational requirements, maintenance considerations, and community needs. Florance thrived in her role on the Program and learned to be comfortable while being uncomfortable. By putting herself out there, she made the most of her time during the Link21 internship. 
When asked what advice she would give to future BART interns, Florance shared:
 "Transportation isn't just about planning and engineering. It's about a collective of experienced professionals that are advocating for community. It's more than just moving people from one place to another."
We would like to thank Florance for her contributions and we look forward to seeing the great things she will achieve. If you would like to learn more about Florance, and her work, visit her LinkedIn Profile.