Major infrastructure programs offer benefits to a broad range of communities. Historically, however, these infrastructure programs have had disproportionately negative impacts on minority, low-income, and disadvantaged communities.​
BART and Capitol Corridor are committed to working with these communities throughout the planning process in order to identify and avoid or minimize potential impacts, while maximizing benefits to these priority populations.​
The Link21 Program commits to:
Developing and implementing a process that advances equity through all aspects of the Link21 Program
Building respectful and interactive community partnerships 
Investing in representative and accessible community engagement​
Valuing the lived experience and input of individuals from priority populations
Ensuring that small and disadvantaged and small businesses are integrated throughout the Link21 Program's lifecycle.
Link21 Welcomes Participation
Link21 is actively seeking out groups and individuals who would like to play an active role in shaping and defining Link21's equity focus and ensuring that Link21 is equitable to all people and communities. Please contact us to express your interest.  
Definition of Priority Populations
Image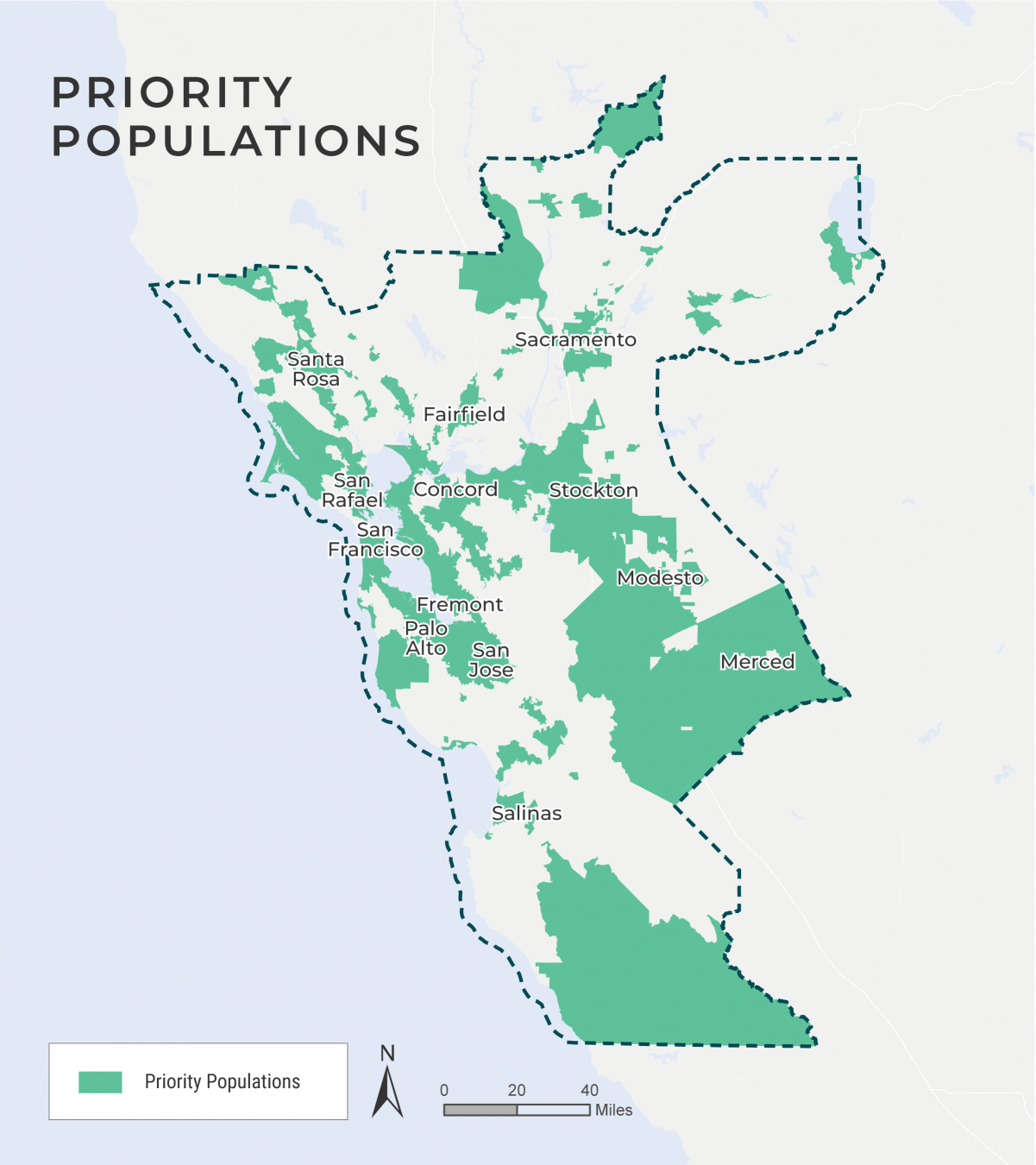 Link21 defines priority populations as census tracts that are designated as either State of California Priority Populations, Metropolitan Transportation Commission Communities of Concern, and/or individual county Congestion Management Agencies' Communities of Concern. 
Based on input from communities and experts, this definition will be revisited, as appropriate, during Link21 program development.
State of California Priority Populations include low-income and disadvantaged communities that experience disproportionate amounts of pollution, environmental degradation, socioeconomic, and public health conditions.  
These communities are identified through the CalEnviroscreen 3.0 tool, which was developed by the California Office of Environmental Health Hazard Assessment (OEHHA) on behalf of the California Environmental Protection Agency (CalEPA). The state uses this definition to help implement a variety of grant programs aimed at reducing pollution and providing a healthier environment.
The Metropolitan Transportation Commission Communities of Concern are identified for all urbanized census tracts within the San Francisco Bay Region. A census tract is designated a Community of Concern based on eight United States Census Bureau American Community Survey attributes:
Minority (70% threshold)
Low-income (less than 200% of federal poverty level, 30% threshold)
Level of English proficiency (20% threshold)
Elderly (10% threshold)
Zero-vehicle households (10% threshold)
Single-parent households (20% threshold)
Disabled (25% threshold)
Rent-burdened households (15% threshold)